Note: These images have been resized to fit in this area. In their original form, the quality was greater.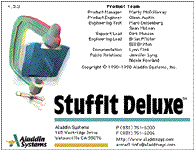 StuffIt Deluxe 5.0 About Screen.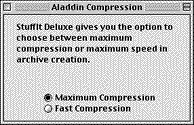 Here is the Aladdin Compression Control Panel.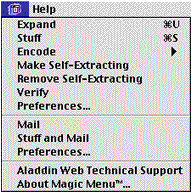 Here is the Magic Menu. It is located between the special and help bars.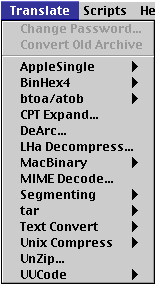 Shown in actual size, this is from the StuffIt Deluxe 5 Browser. You can translate an archive to these formats.
Click here to download a StuffIt Deluxe 5 archive that contains compression information. It compares size and time between versions 5 and 4.5. Obviously, at least StuffIt Expander 5 is needed. If you haven't yet gotten it, go to Aladdin System's web site and download it.
Introduction
StuffIt Deluxe 5 is an update to the prior version 4.5, you probably want to read that review too. The new version has more features including 20% better compression and support for Mac OS 8.5. Also, if you have version 5, you will want to update it to 5.0.1. The update is free from Aladdin Systems.
Details
StuffIt Deluxe programs keep getting better, easier, and more efficient. Now you can stuff those files 20% better than before. This will clearly save you time. If you use your files over the internet, email transmissions and download times will be cut. Or if you store files on your system, you can save valuable space. StuffIt Deluxe 5 also has support for Mac OS 8.5. OS 8.5 uses MacBinary III technology. Now you can make and use those archives. The features from the prior version 4.5, are still available for you. However, if you want to use an old archive, you can only view the contents. If you want to edit it, you have to convert it to a new archive. This is simple, but you should know it.
Details: TFI/MagicMenu and Aladdin Compression
True Finder Integration and MagicMenu are still used in StuffIt Deluxe 5.0. This makes translating files simple, easy, and quick. Many of the heavily used features like expand, stuff, encode, mail, etc., are under this menu. You can do all this right in the Finder, without launching the StuffIt application. This is really a time saver.
Aladdin Compression is a control panel that is installed onto your system. It will let you use StuffIt Deluxe 5 to the fullness. You can choose between maximum compression or fast compression. Maximum compression is 20% better than Deluxe 4.5. Fast compression is the compression of Deluxe 4.5. If you set it to maximum compression, you may notice that it takes you longer to compress stuff, but you will save great space.
Details: How To
You still can compress and convert files by many ways. The MagicMenu is probably the fastest if you want to do simple tasks. The StuffIt Browser has been updated somewhat, and there you can use all the features of the program. Also, when you're in the Finder, you can archive via name. Just type .sit, .bin, .hqx, etc., and the file will instantly convert. There are even more ways for you to use StuffIt Deluxe. However, these are probably the most used. Not all of the ways let you use all of the features though. For example, if you use the MagicMenu, you can't translate the file to all formats. If you want .tar or .zip, you have to launch the Browser. If you want to password protect, you cannot use the archive via rename. But MagicMenu and the Browser will let you use password protect. So, you should learn the features of each way, and then pick what you want to use. To save time, you will probably use many of the features at different times and situations. It depends on what you want to do.
Details: Continuing Features
StuffIt Deluxe 5 has more features than listed in this review. You can go all out and program scripts to translate files. One of the important things with StuffIt Deluxe is the ability to edit archives without completely unstuffing them. You can open the stuffed files and save changes without unstuffing all the files. Not only can you edit files, but rearrange the archive by adding folders and putting files in them. This is great if you forgot to place a read me file or something in an archive. Another hassle free feature is the Mac and PC translation. You don't have to worry about files getting messed up when you take them to different systems. Or if you want to put something on removable media that is too big, just segment it. Then you can rejoin the files to make the one big one. StuffIt Deluxe 5 can be tailored to fit you.
Conclusion
StuffIt Deluxe 5 is the new standard for file compression. If you don't have a version yet, you should ask yourself how often you need compression. If you send large email attachments, backup files, distribute files on the net, or alike things, you should get this. If you already have an older version, think how 20% smaller files will help you. If you send large emails, send time will be cut and email servers will be better. If you backup files, you get more disk space. Or if you distribute files, you will have more bandwidth. If you do any of this, StuffIt Deluxe 5 is right for you.
Rating
9/10

9/10

This review was published by the CCPlace Staff. No duplication of this review or any part of this review is permitted.