Note: These images have been resized to fit in this area. In their original form, the quality was greater.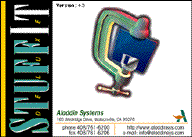 This is just the popular StuffIt icon.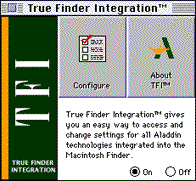 The TFI control panel allows you to turn on three finder settings. This is what makes the finder work easy.

The first icon is the MagicMenu. This will be predominately placed in the finder. Once you select an archive, the second menu appears.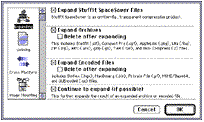 Change the preferences directly from the finder. Control your tasks.

This is an example of an archive. It was opened in the finder. Notice the size, stuffed, and saved areas.

This is the program's tool palette. Notice the stuff, unstuff, new, delete, info, view, launch, and move buttons.
Introduction
StuffIt Deluxe is a program that many people know about. They know what it is used for. That is to compress files so they take up less hard drive space. This is also good for transferring files, it reduces the transfer time dramatically. But they may not know what its full capabilities are. You might be surprised.
Details
StuffIt Deluxe clearly outperforms any shareware compression tool. This program will stuff, unstuff, password protect, email, etc. Also, like a feature of Private File, StuffIt uses True Finder Integration. StuffIt gets down to the details and makes compression so much easier. You can look inside archives without decompressing them. You can view how much disk space you are saving with files stuffed. View both in file size and percentage. You can make empty archives from the finder, and fill them how you would like. Or you could launch the program and open many more features. Many file formats, labeling features, comments, etc., are a part of the program. There is so much more to this program than any shareware tool.
Details: TFI and MagicMenu
TFI allows you to complete stuffing tasks directly from the desktop. You don't need to launch an application. If you don't already have the MagicMenu installed, the StuffIt installer will place it. This gives you many commands to take advantage of, right from the finder. The MagicMenu menubar is placed directly to the right of the Special menubar. Once you open an archive in the finder, yet another menubar appears. You can label files, comment them, make the archive self extracting, etc. The MagicMenu does make tasks faster and easier.
Details: How To
You have four main ways to convert files. You should find one that is the easiest for you, and that fits your needs. You can stuff and unstuff by using the MagicMenu. Just highlight the file or files and select stuff from the MagicMenu. This is very simple and you can complete much of the work in the finder. Even preferences can be changed by using the menu. But, if you need to convert files to different formats, you will have to launch the program. This is a bit more complex, but still easy to handle. Back to the finder, you can create a empty archive by holding the option key and selecting new archive from the file menu. Then just drag and drop your files into that new archive. Simple again. Or you could drag and drop the files on an aliased application icon. There are more ways to convert files, but these are the main ways. You have to find out which one will fit your needs. Do you need to password protect? Do you have to translate it into a different format like UNIX? Not all of these ways will let you password protect and use different file formats. But by launching the application, you can use any feature you want.
Details: Continuing Features
StuffIt Deluxe has even more useful features. When you launch the program, you have many more options. Imagine that you forgot to place some text in your stuffed file. You could unstuff the entire archive, fix the text, then stuff the entire thing again. But, by using the program, you can view files that are stuffed in an archive. Not only can you view them, but you can also edit and save the changes. All this can be done without unstuffing the archive. That is a really nice feature. You also have the option of making scripts. Just select start recording from the menubar, and complete the tasks that you want in the script. If you would like, edit the script to make it fit your needs. If you need to translate a file, you can. Select the file type, creator, label, name, comments, and format. Complete this without unstuffing. So the point is, you can edit files without unstuffing them. This in result, will save you time. If you want to stuff a file larger than 1.4 megabytes onto a floppy disk, it can be done. Just use as many disks as you need and put them in segments. Then you can even make them self extracting so there is no hassle.
Conclusion
StuffIt Deluxe has so many more features than other programs. From formatting to labeling to password protecting and more. If you really want to use all these features, you need to run the program. But for making a fast archive, don't leave the finder. How often do you send files to people over the net? Think, do you want to compress that file up to 95%? Definitely, save transfer times, save disk space, save your time. This program is a must get.
Rating
9/10

9/10

This review was published by the CCPlace Staff. No duplication of this review or any part of this review is permitted.