Note: These images have been reduced in size to fit into this area. In their original form, the quality was greater.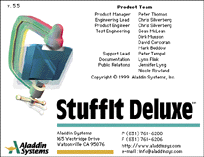 StuffIt Deluxe 5.5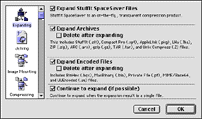 Preferences Window allows numerous options to be set with a few clicks.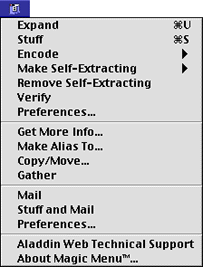 MagicMenu available directly in Finder.

Another part of the visual appearances, StuffIt icons are updated.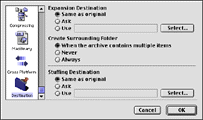 More Preferences, available directly in the MagicMenu.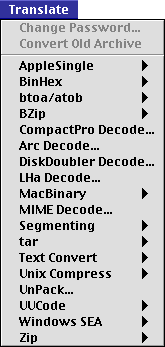 Many formats are available for compression, encoding, decoding, etc.
Introduction
StuffIt Deluxe 5.5 is clearly the choice for local file compression as well as internet file compression. Users who want to keep their larger files on their computer, but still would like to keep as much free space as possible, have a solution. Stuff them. StuffIt quickly creates an archive and can save up to 90% or more of the original size, depending of course on what exactly needs stuffing. StuffIt also saves bandwidth when on the internet, which results in obvious benefits. With so many options and preferences for the user, you should find that StuffIt can easily become tailored to your desires.

So what do you do with that Mac file that you want to send via email to a friend on a PC or Unix machine? Stuff it of course, and you can send it in the correct file format. Version 5.5 now allows you to make self extracting Windows archives. Receiving other formats is not a problem, StuffIt will do the work so you can access the contents in a compressed file.

Details
StuffIt Deluxe 5.5 adds some new and improved features to the quite popular software title. If you are not already familiar with it, you may want to read our other reviews on versions 4.5 and 5.0. The new version, StuffIt Deluxe 5.5, includes many visual updates as well. As usual, the same space crunching compression is included. Now however, users can access the archive contents faster, an average of 20% faster. Along with the new appearance, version 5.5 offers full Mac OS 9 compatibility.

Details: Stuffing Choices
There are indeed many options for stuffing a file as well. The MagicMenu allows fast and easy stuffing directly in the Finder. Simply highlight the file, and click stuff, or command S. Other options for file formats and such are also included in the MagicMenu. While in the Finder still, you could just change a file's name from FileName to FileName.sit, and you'll create an archive. Contextual menus also allow stuffing. Of course, drag and drop is supported so you can just drag a file into an existing archive. If you need to make a special compressed file format, you'll probably want to launch the StuffIt Deluxe program. Here, many more choices become available. File formats galore, along with automatic stuffing, are just a few. In the program, you can even make archives automatically include certain files that fit criteria that you set. Want to backup that Business Forecast spreadsheet without manually stuffing it whenever you change the file? Let StuffIt automatically replace the old archive with the new stuffed spreadsheet whenever you make a change. StuffIt also works with AppleScript, so you can make it fully scriptable. It also allows you to record scripts if you don't feel like coding.

Details: Visual Appearance
A great deal of StuffIt Deluxe 5.5 consists of visual updates. One example is the new StuffIt icon. Others can be seen when you stuff files and work more with the software. Mac OS 9 support is also included, which could be considered as a big visual plus. One puzzling part is the StuffIt Deluxe 5.5 application. No new visual updates were made to it. In fact, it's difficult to see any visual changes within the past few releases. In my opinion, a cool new high tech theme might look nice. Or why not just allow the user to set their own themes? I'll have to look for this part to be updated in the next release. Either way, it still gets the job done.

Details: 5.0 versus 5.5
There are of course the visual appearances which are new in version 5.5. There is also the new fact that users can stuff and unstuff archives an average of 20% faster. It should be understood that the StuffIt 5 file format remains the same. So, StuffIt 5 owners can still read archives made with version 5.5. However, owners of version 5.5 can access the file contents faster. After numerous tests, you really can see the speed difference.

Conclusion
StuffIt Deluxe 5.5 mostly adds new visual appearances to the already existing software. Also, the new release boasts an average of 20% faster stuffing and unstuffing. It also supports OS 9. Don't be fooled into thinking that you must buy this to enjoy StuffIt and OS 9. There is a free update from Aladdin System for OS 9 users. However, it doesn't have any of these new features. Basically, if you need to buy the full 5.5 version, buy it now. It's at a great release state and it should suit you quite well. If you already have an older version, even 5.0, spend the $20 to upgrade. Previous owners will enjoy lower prices, so that makes version 5.5 more appealing. The speed increase, visual updates, yet more ease of use, OS 9 support, etc., make the $20 upgrade price worth it to previous owners. Whatever your situation, now is a time to get your hands on StuffIt Deluxe 5.5.

Rating
8/10

8/10