A Note About The Images: These images were originally much larger and we had to resize them. Doing so made them unclear and a little distorted. At the original size, they were much clearer. If you have millions of colors chosen on your monitor, it should help you see them clearer.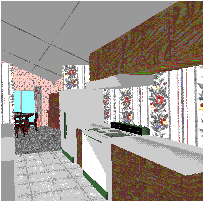 Notice the interior cabinets, stove, countertop, wallpaper, floor, roof, refrigerator, etc.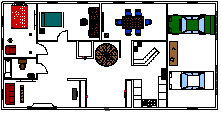 I made this simple layout to help you see the process. First you draw this in 2D, then tour it in 3D. The roof and floor were removed so you could see the layout better.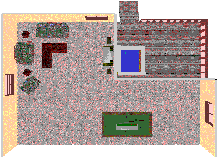 Once in 3D view, you can also look at the bird's eye view. Notice the outside features, including a deck and a hot tub. You can also draw grass, driveways, or anything else you might want.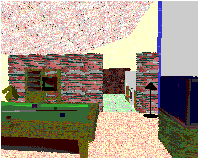 Notice the pool table, fish tank, and the brick wall that does not extend all the way up to the ceiling. You have control over the height of all objects.

These are some of the tools that allow you to create your buildings.
Introduction
Design Your Own Home 3D WalkAround is a truly powerful design tool. You may think designing a house or other building is just drawling lines and placing objects. This product gets down to the fraction of an inch. Details from wall thickness to seating fabrics and more are all your choice.
Learning
Like many sophisticated programs, 3D WalkAround takes time to learn all the features and to master the program. If you try to design something by inserting the CD-ROM and opening the program, you probably won't get far. It is much easier if you read the tutorial part of the manual. You probably don't have to read the whole manual, but you should take the five minute tutorial. It discusses many features and is easy to follow if you look at the manual and then at the computer. Then you have the basics down, but you may need to continue with the manual. However, if you know how many programs work, you can teach yourself. But, there are a lot of tools to know. These tools can be a major help, and make your finished result look better. So, you should look at some of the manual.
Details
3D Walkaround has many ways for you to customize your building. First, you start by drawling walls and making the structure. When you draw a wall, a number pops up telling you how long the wall is. As you make the wall longer, the number becomes greater. This number is displayed in feet and inches. After you got that down on the screen, you can make doors, windows, or place furniture. There are so many pieces of furniture and other items that you can place. There are: Appliances, Arches, Artwork, Bars, Bath, Bay Windows, Beds, Ceiling Beams, Chairs, Curtains, Doors, Fences, Fireplace, John Green Furniture, Kitchen, Lamps, Misc, Office, Plants, Roof Objects, Rugs, Seating, Shelves, Skylights, Stairs, Tables, Tutorial, TV & Audio, Valences, and Windows. If you can't find what you're looking for, it probably won't fit in your building. Once you place an end table or something similar to that, you can even place a lamp or phone on top of the table. To make sure that the lamp is at the correct height, a 3D object editor is waiting to make adjustments. Now, how about tile floor, wood floor, or carpeting? With many 3D textures to choose from, you should find something that you like. If you don't like the sofa color, just choose a different fabric. Do you want stucco ceilings? What color? How high? These are all your choice. You get to make it how you want it. That is what is so neat about this program, you control it.
Details: Included Art
If you feel that you can't yet make a building of your own, you can use a floorplan. There are about 175 floorplans to choose from. These are 3D WalkAround documents that have just the walls pre drawn. The layout of the house is already done, each room is labeled what it is and the dimensions are also labeled. You can still change the walls around, and make it fit to what you need. But, all you really have to do with a floorplan is place the furniture, place the floors, and make a roof. Then your building is done. There are different styles of floorplans to choose from. Some examples are Cape Cod, Colonial, Country, Ranch, Medical, Modern, Offices, Spanish,Vacation, and others. After you pick your floorplans, you have over 1000 3D objects to place. So, you might want to get familiar with them. After you have your furniture placed, you can choose from over 700 bricks, carpets, fabrics, floors, stones, wallpapers, woods, and other 3D textures. So the point is, you can change your building to what you want it to look like. You can also view some sample buildings already completely furnished and ready for you to take a tour of. These can give you a few ideas. Once you have looked over all the thousands of items included, you can even download more from the internet.
Details: 3D View
After you have your 2D sketch on your screen, it is time to take a 3D tour. The tour is simple to control. To start, you just click on the 3D button. Then you can view bird's eye and North, South, East, and West sides. You start away from the building and walk up to it, trough the walls, into the rooms, through more walls, etc. You can move side to side and forward or backward. Also, you can still rotate to get a better 3D environment. How about the quality of the tour? You can view it at 15 frames per second. Not bad for real time 3D tours.
Conclusion
3D WalkAround is very precise. The things that make it so good are the tons of options and the 2D to 3D views. You can even choose how high off the floor the windows should be. You also control the depth, textures, size, color, and appearance of all items. If you are serious about building houses, offices, or other structures, you should really buy this program. 3D WalkAround will create many sizes, from one room to an entire house with outside features.
Rating
8/10

8/10