CCPlace Awards
Over the time that we have been reviewing material, publishing ideas, rating products, and other things, we have been recognized. We have received more than awards, including very much thanks from product manufacturers. Many companies want us to keep reviewing their newest material because we do such a great job on the reviews. We are quite proud of our work and the recognition that we have received. Some of the awards that we received are: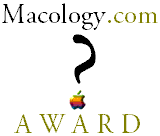 We have also been featured in news sites and are linked directly to from other web sites.
---
READERS ARE NOW FREE FROM ADS. ENJOY!
---
This page was published by the CCPlace Staff. No duplication of this page or any part of this site is permitted.